Creating Coloring and Activity Books with Done-For-You Heart Coloring Pages for Journal Publishing
Once you've created your first few notebooks, you'll probably want to branch out into more complex interiors. Coloring and activity books are a great niche to get into!
But if you're not able to create your own coloring images, how do you get started?
With done-for-you content that you can resell as low-content books!
But we never want to use PLR as-is.
EVER.
You need to somehow make this content unique by:
mixing and matching templates
changing fonts
adding text
and adding in your own custom page designs
It really is that easy!
Take this heart-themed coloring pack for example – it comes with private label rights (PLR), which means you can package it up and sell it as a low content book.

==> Grab this pack through my link and email me your receipt to get access to an exclusive bonus showing you an additional technique you can use to create coloring books!
How to Create Activity Books with PLR Coloring Pages
You could definitely put together a coloring book and that's a good place to start. Especially if you're using this technique to publish your books.
But why stop there?
It's just a little more work to create activity books and they're a popular item with buyers.
So here's what I would do:
Decide on what type of activity book I'm creating
Research keywords people are using on Amazon and use that information to decide on a target niche
Choose the coloring pages I want to include in my book
Decide on the activities I want to include and either buy them or create them
Piece together my interior (always in PowerPoint)
Create my cover or have one created on Fiverr
Simple, right?
---
---
What Kind of Activities Can I Add to My Coloring Book?
The main activities you'll want to consider for your coloring and activity book are:
Games
Writing activities and prompts
Drawing and sketchbook pages
You can create an infinite number of books with these activities and coloring PLR!
---
---
Create Journal Hybrids by Adding Coloring Pages
Another way to use coloring pages and patterns is to incorporate them into notebooks and journals.
You could create a journal from scratch and simply add in this coloring PLR or you could combine these with other templates you have to create something that's in-demand and 100% unique!
When you create and edit your low content books in PowerPoint, it's a breeze to mix and match templates.
When you create a hybrid journal, you're tackling two things people passionate about this hobby really love – journaling and coloring.
They frequently go hand-in-hand and you can tap into this niche and see some great sales.
If you plan on creating multiple coloring books and coloring journals, I suggest getting fresh content like this every month!
---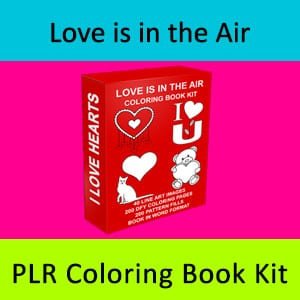 Love is in the Air PLR Coloring Book KitMore Info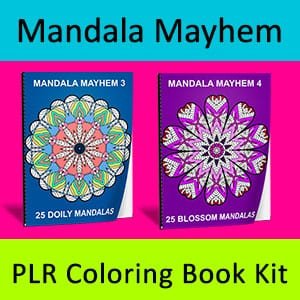 Mandala Mayhem Coloring Book KitMore Info
All You Need is Love Coloring Book KitMore Info
---
Wrapping Up
You want to remember that, if you're purchasing PLR or done-for-you content to create your journals, is has to be very high-quality to begin with.
And even if a product says you can upload as-is to Amazon or any other selling platform, I'm telling you that you need to change it somehow – add more content, take out content, mix and match what you have or what you purchase, change fonts…really make it your own and 100% unique.
This practice is good for our community because it ensures that you are not spamming Amazon with crappy products, which means Amazon's happy, the buyer is happy, and you're happy!
What's the Word, Hummingbird?
Drop a comment below and tell me what you think about using coloring PLR like this to create low content books. And don't forget to subscribe to my list for more tips and techniques for low content book publishers!
Please like, follow, and share!